Emojis Go Flat!
A redesign project of the world's most famous pictograms by Vittorio Perotti and Giulia Zoavo.
The challenge: redesign the current emojis, maintaining their meaning and soul, but changing their appearance, giving them a contemporary style.
Fresh, flat and simple: the three keywords we kept in mind during our work. 845 emojis later, here we are!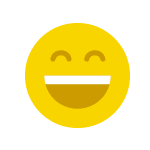 Featured on:

Slate - Is It Time for an Emoji Redesign?
Design Taxi - A Refreshing, Minimalist Take On All Your Favorite Emojis
Threadless - Artist Shop Spotlight: The Emoji Redesign Project
Furia Mag - Los emojis que todos usamos han sido rediseñados
Picame - Le Emoji diventano bidimensionali
Nice Fucking Graphics - The emoji redesign project